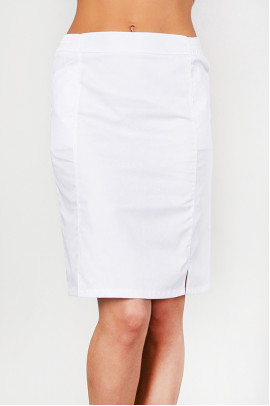 Medical skirts not so long ago appeared in the collection of clothing for doctors, but has already managed to attract the attention of users and compete successfully with traditional products such as robes, pants, blouses.
Medical skirt is an opportunity to look neat, stylish and elegant, keeping at work, femininity and a nice appearance. For women it is very important to always feel successfully dressed — it adds optimism, confidence, positive impact on mood and productivity.
This capability is endowed with the best examples of skirts — simple, elegant, but at the same time, very practical and functional products that look great with jackets, shirts, jackets offered by manufacturers for the beautiful half of health professionals.
Like any professional clothing for doctors, nurses and other medical staff, and skirts are manufactured in strict accordance with the standards and meet the criteria of ergonomics, sanitation, hygiene. Used in the production of the finest natural materials with high hydrophobic and barrier properties, with a breathable structure, without allergenic chemical additives. In such clothes easier to endure long shifts and duty, can focus on core duties without worrying about inconvenience or discomfort.
White, light blue, peach model from well-known manufacturers really comfortable, practical and simply beautiful. Not surprisingly, many beauticians, dentists, the staff of the registries, physicians with the same happy abandon traditional robes in favor of a stylish and modern sets with skirts.